Christmas gift Yak Pak Branded reversible UNIVERSAL Apple iPad YAK PAK TABLET POUCH colourful pouch sleeve multi-coloured grids
STUNNING REVERSIBLE /DOUBLE SIDED IPAD CASE FROMYAK PAK 2012 COLLECTIONONLY 2 PIECE REMAINING IN STOCKLIMITED EDITION VERSIONfits both ipad2 /ipad 2 and ipad 1REVERSIBLE/DOUBLE-SIDEDMulti-coloured CHECKERED Grid Pattern TO Black and White Chess Board Pattern and VICE VERSAWITH ALL ORIGINAL TAGS and Retail PackagingIdeal for GiftingIpad Pouch bag /Note Book Bag/Net Book Case/Cover/BagExternal Dimensions : 28 cm or 11 inches tall x 20.5 cm or 8 inches Wide. One Large Main CompartmentCAN HOLD UP TO 10 INCH SIZED NOTE BOOK / NET BOOK / IPAD etc....Branded Emblem and Original TagsWith closure Flap for Full protectionHigh Quality Neoprene Material with Black Nylon Trim on FlapAnti-Shock Neoprene Material Used to Make these CasesFine StitchingBeautifully DesignedStunning Attractive Collage Multi_Coloures Grids Printed OuterReversible/Double sided
You will earn
34
loyalty points with this purchase

CHRISTMAS gift branded reversible apple iPad colourful pouch grid case

STUNNING REVERSIBLE /DOUBLE SIDED IPAD CASE FROM

YAK PAK 2016 COLLECTION
New iPad sleeve.
VERSION:fits ALL IPADS.
both ipadS AND TABLETS

REVERSIBLE/DOUBLE-SIDED
Multi-coloured CHECKERED Grid Pattern TO Black and White Chess Board Pattern and VICE VERSA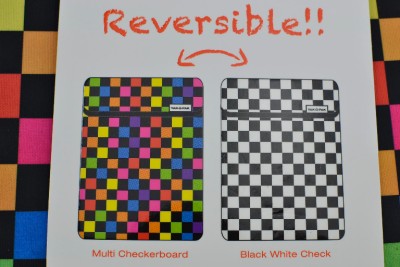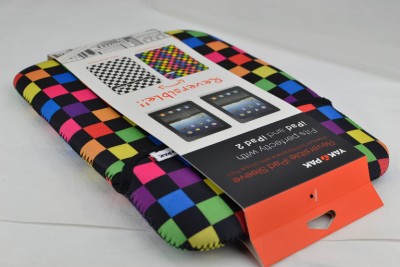 STUNNING REVERSIBLE /DOUBLE SIDED IPAD CASE FROM
YAK PAK 2012 COLLECTION
New iPad sleeve.
VERSION:fits ALL IPADS.
both ipad2 /ipad 2 and ipad 1
REVERSIBLE/DOUBLE-SIDED
Multi-coloured CHECKERED Grid Pattern TO Black and White Chess Board Pattern and VICE VERSA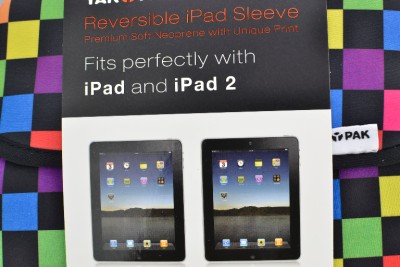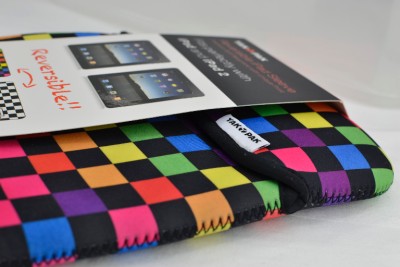 "An ideal Personal,Corporate or Seasonal Gift for anyone"
ORIGINAL COLLECTION FOR Yak Pak FANS
WITH ALL ORIGINAL TAGS and Retail Packaging
Ideal for Gifting
Ipad Pouch bag /Note Book Bag/Net Book Case/Cover/Bag
External Dimensions : 28 cm or 11 inches tall x 20.5 cm or 8 inches Wide.
One Large Main Compartment
CAN HOLD UP TO 10 INCH SIZED NOTE BOOK / NET BOOK / IPAD etc....
Branded Emblem and Original Tags
With closure Flap for Full protection High Quality Neoprene Material with Black Nylon Trim on Flap Anti-Shock Neoprene Material Used to Make these Cases Fine Stitching Beautifully Designed Stunning Attractive Collage Multi_Coloures Grids Printed Outer Reversible/Double sided.
NOTE:THE PHOTOGRAPH IS OF THE ITEM YOU WILL RECEIVE.
YOU GET WHAT YOU SEE....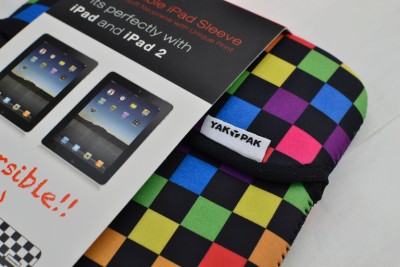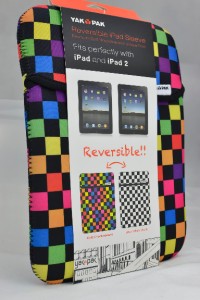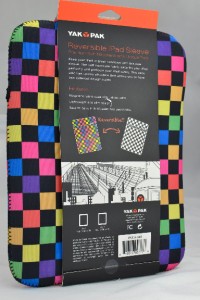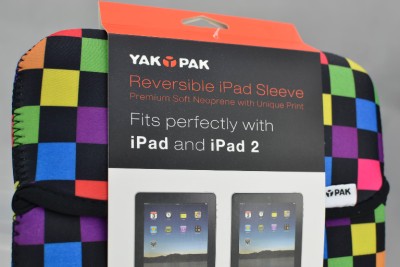 | | |
| --- | --- |
| Brand | Yak Pak |
| Condition | New |